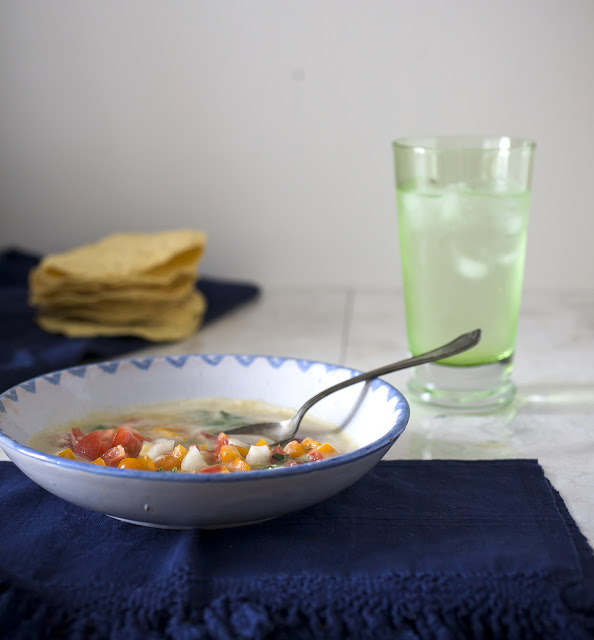 Light, garden fresh gazpacho is a favorite of so many, but for me the texture has always been a deterrent.  Not to be negative, but it always felt too much like pureed salsa and I get stuck on that. The idea of eating fresher than fresh vegetables is so wonderful, but the mushiness just left me feeling, meh.
So after thinking about it, I decided that what I found lacking was the soupy part of this cold soup, and why not have chunks of the tomatoes for a toothsome texture? And THEN! like a confirmation from the heavens, I picked up the latest special edition of Gourmet magazine, Easy Dinners. Now don't you know, they have exactly the type of soup that I was thinking of! Though theirs is tomatillo based and mine has none, the concept is the same.
The broth aspect of the soup is made in the traditional manor of classic gazpacho, fresh vegetables are pureed to smoothness, but in my version the solids are removed from the liquid, which has drawn out all the essence of the vegetables leaving behind a broth that is incredibly rich in flavor. After that it's just the matter of chopping up the rest of the vegetables and combining it all together.
This week at the market I was so thrilled to see so many varieties of tomatoes so early in the season, and the yellow, orange and red tomatoes are so beautiful together. So the base is comprised of yellow tomatoes, and the toss ins are orange and red.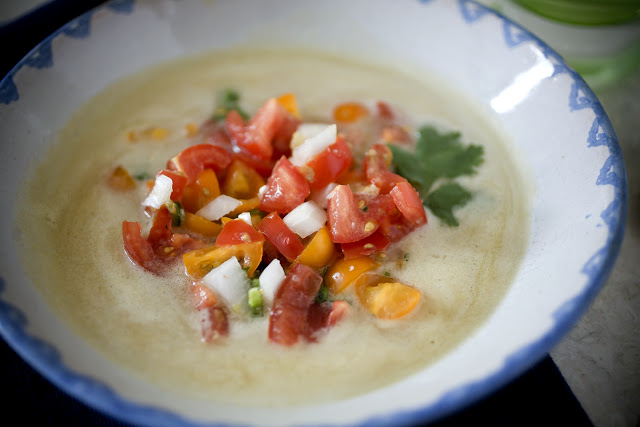 My best advice when making this soup is to allow the added in veg to marinate in the base awhile before serving (an hour or two?)- and then maybe toss a few fresh bits on top for brightness of color. Another word of advice is to balance the acidity well. Tomatoes already have quite a bit of acid before adding some vinegar, and different varieties and levels of ripeness will vary too. So to keep your soup from tasting like a bowl of salad dressing, go easy with the vinegar at first and ease on up to balance. If you go too far, a minute pinch of sugar will bring you back down.
*And a bonus* The solids that are left after the straining are delicious and wonderful on their own. I used mine as a garnish on tostadas, but would also be great folded into filling for enchiladas for instance. It's all the great flavor without the juice running down your arm (not that that's a bad thing).
Deconstructed Gazpacho
serves 4
1.5# yellow tomatoes, chopped and divided
.5# orange tomatoes, chopped and divided
.5# red tomatoes, chopped and divided
.5 medium sized white onion, chopped and divided
1 jalapeño pepper, minced
1 large garlic clove, chopped
2T red wine vinegar (adjust to taste)
.5c water
2T olive oil
.5c chopped cilantro
In a blender, puree half of the yellow tomatoes, half the onion, half the jalapeño, the garlic and vinegar- until smooth.
Strain through a medium mesh sieve and press the solids to extract all the juice. Discard the solids.
Stir in the remaining tomatoes and onion. Add water, oil and salt and vinegar to taste.
Chill until cold, adding chopped cilantro right before serving.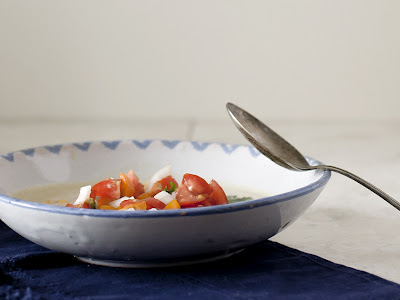 Enjoy!