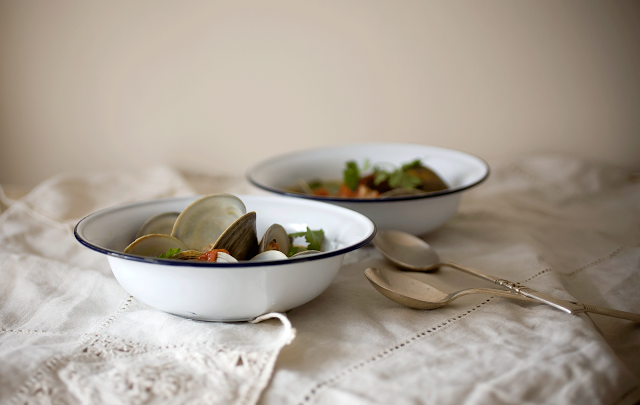 The cool is coming in and already I am feeling the day's light getting shorter. Aside from the childish pleasure of running out the door and not having to remember a sweater- I love the long days of golden light that we get in the summer months in the North, and I will really miss them.
I love the Fall though. More than anything, I truly enjoy the change. I am reminded every few months that no matter how much I desire it, change is happening. Life is a river. We are the river- and it's joyous to embrace the flow. Have you ever swam against a strong current and then tried swimming with it? Going against is hard and you get nowhere fast- but going with nature's flow makes one feel powerful and exhilarated. It's hand over fist glory- Look at MEEEEEEEEEEEE!
My birthday is coming up soon. It's a big one. One that makes a person usually take a few moments to evaluate. One often asks:  Is this where I expected I'd be at this point in my life? The answer is, I am always here. I am always in this moment right here, right where I am supposed to be. So decade markers mean nothing as I move forward into change, they simply just do not matter.
I used to resist change. I used to fight for the exact spot and location of where I wanted to be, and then hold onto it for dear life. I thought this was right and good- I also thought it was success.
I now think differently.
Change means growth. Change means lessons learned (hopefully). Change is life.
Besides, who really wants to complain?  Cooler days means it's more fun to turn the oven on, or invest an afternoon in a roast. It's also wonderful for a soup like this one- warm and spicy and easy to make. So perfect for sharing on a cloudy day when there is nowhere to go. Steaming bowls of broth, warm friends and glasses of crisp wine.
Cooler weather is also wonderful for snuggle lovely sweaters- and really, don't you just love that feeling when the air nips and your sweater keeps you warm and toasty? I just have to remember now to pull one down from the shelf and take it with me.
A small lesson learned. (hopefully)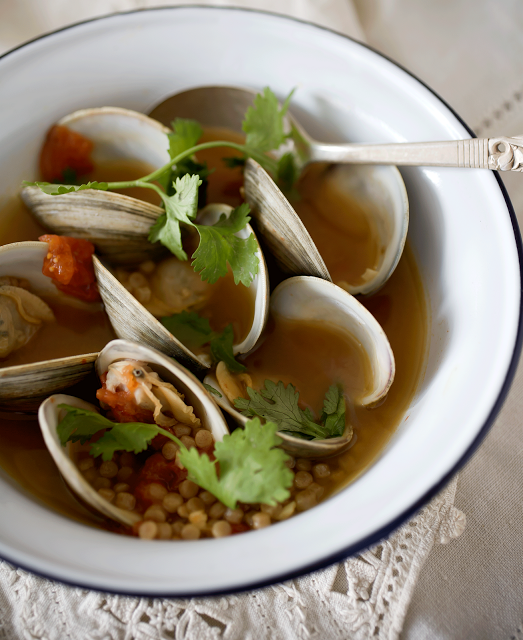 Spicey Clam Broth with Cous Cous
any small clam will work in this dish from vongole, to cherry stones. If you're not a fan of clams, you can substitute shrimp or fish filets too.
serves 2
1T Olive Oil
1 clove of garlic, minced
generous pinch of red chili flakes
1c rough chopped tomatoes
3c of mild vegetable broth or chicken broth
.33c whole wheat cous cous 
2 dozen cherrystone clams
Cilantro to garnish
S&P to taste
In large sauce pan warm the oil and gently sautee the garlic. After 2 minutes add the tomatoes and chili flakes. Cook until the tomatoes are wilted but still juicy-about 3 minutes.
Add in the broth and bring to the boil. Add the cous cous and gently boil for 15 minutes.
Add the scrubbed clean clams and cover the pot. Allow to cook for another 4-5 minutes until the clams are open. Turn off from heat and allow to stand for 2-3 minutes.
Serve into shallow bowls and garnish with fresh cilantro leaves.
***This dish is wonderful with a Viognier or a light Chardonnay***