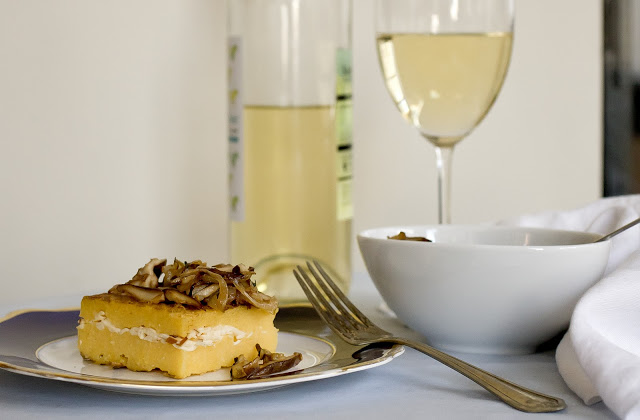 On the chillier days I prefer to serve a warm snack when friends come for a drink. As coats and hats and gloves are doffed and tucked away, the smell of sauteed onions and mushrooms greets them to let them know that as they settle into cushions and chairs that the belly will be rewarded for making the trek out in the cold.
Grilled polenta is a wonderful comfort food that is easily prepared ahead of time and and warmed when guests arrive. I stuffed mine this time with a smokey Gouda to give it some depth and richness. This made a perfect pairing to the earthy topping.
The portion is tapas size- about 3 inches square- which is a lovely snack when sipping on a soft round white such as Chardonnay or a robust Sauvignon Blanc. Not a meal but a hearty small plate of warm comforting goodness.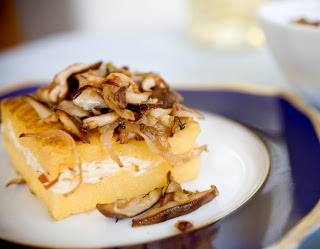 Smoked Gouda Polenta Squares with Shiitake Mushrooms
serves 6-8
8oz polenta
2 oz Smoked Gouda, grated
2 medium brown onions, sliced thin
1# Shiitake mushrooms, stems removed and sliced
2 cloves garlic
.5 c white wine
2T butter
1T Thyme 
Prepare polenta by heating 4.5 c of water to boiling. Add 2t salt to water and then with a whisk slowly pour in the cornmeal while stirring the water to prevent lumps. On low cook until all water is evaporated, about 5 mins.
My trick is I make my polenta in my rice cooker. It warms and cooks the polenta nice and slowly, reduces splatters around the stove, doesn't scorch and is easy to clean up.
Prepare a 9″ square pan with either cooking spray or line with plastic wrap.
Spread half the polenta evenly into the bottom of the pan, disperse cheese evenly, and then layer the rest of the polenta on top. Cover with a layer of plastic wrap and smooth out the top by pressing with fingers to get it as level and even as possible.
The polenta can be made well in advance (the night before?) or it should at least be left to cool and set for an hour or so.
In medium frying pan over medium low heat, melt the butter and add the onions. Slowly cook the onions until they are golden, taking care not to scorch them. Add the garlic and the mushrooms and sautee for 2 mins. 
Toss in the thyme and white wine and cook until the wine is evaporated. S&P to taste.
To serve cut the polenta into neat squares and grill. Spoon warm mushrooms over the top