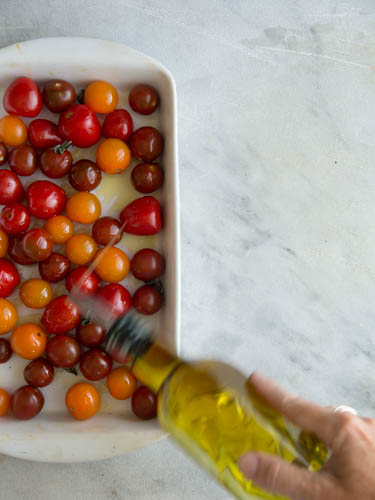 August is my happy time of the year. The rhythm and flow of the summer is now engrained. Shoulders are goldened by the sun, stepping into shorts and slipping on tee shirts is the uniform of ease and mobility. The cicadas have begun their evening song, peppered with the glow of fireflies floating in soft velvety air. We have reached the sultry, the slow, the comfortable and casual- and the absolute best part? We have reached the time of abundant tomatoes.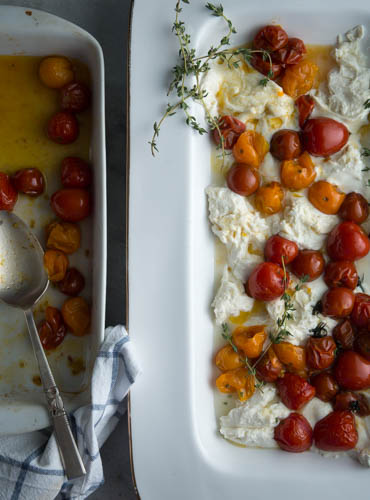 The farmers market is an intoxicating playground. So much color and jewels to choose from. Baskets overflow with gorgeous beauties- and the smell! I just love the smell of an earthy pungent tomato. One thing I have learned is that tomatoes are different in different parts of the country. I took for granted what I've always known since childhood. I hadn't realized how much it touched my soul to hold a heavy Jersey tomato in my hand, its smoothness filling my palm, and that incredible smell of tangy earth. Now I revel whenever I can- which often leads to over purchasing.
I make a mean corn tomato salad which often utilizes the bulk of my tomato buying, but last weekend I got carried away. I was a kid in a candy store. I wanted all the colors. I collected them and held them to my belly as I shopped the stand- and it made me happy. Only, after the weekend there were too many leftover.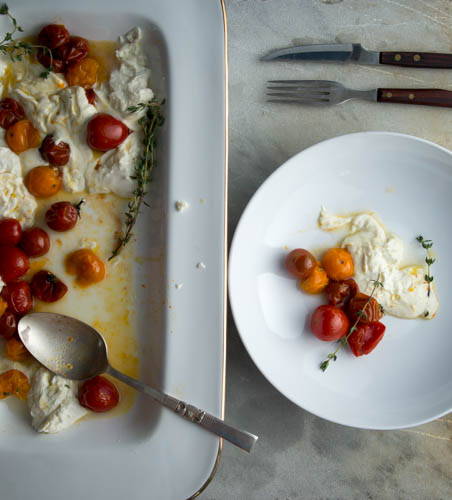 This salad is a dynamic of texture and temperatures. The tomatoes are tossed with oil, thyme, a healthy splash of salt and grinds of fresh pepper then roasted in the oven (or as I have taken to do lately- on the grill with the lid closed). Fresh mozzarella is pulled and torn into chunks onto a platter for the ready. Once the tomatoes looked puffed, thin skinned and ready to burst, and maybe a few have begun to give up their juices, it's time to pull them from the flames. Give them a minute to sigh and relax and weep that gorgeous juice into the pan. While still quite warm, spoon them over the cheese.
The heat will gently melt the edges of the cheese, yielding its creaminess, while maintaining a center of cool. Grab hunks of your favorite crusty bread and have at it. Serve with friends, and a rose, and if possible with the concert of cicadas and the dancey glow of fireflies.