Warm Cardamom Spiced Chicken with Yogurt Cumin Sauce
Warm spices are the balm of Autumn. Cozy and seductive to warm the evening with out the zing of picante. Cardamom is not a big time spice in the overall scheme of things. Derived from lovely green pod seeds, the scent is a soft spice, truly like non other. Often it's used in sweet dishes, but can hold it's own here quite nicely.
This season has turned into a whirlwind of sorts for me that I hadn't imagined. For starters, this semester at Columbia is far more intense in regards to reading and writing (about 3x more) than last semester! I hadn't really counted on that- and so I had agreed over the summer to make a few road trips delivering wedding cakes hither and yon to make a little extra spending money. As many of you already know I used to own a custom wedding cake business here in NYC for about 25 years. Now retired I only lend a hand from time to time when needed. A very dear old client of mine insisted on the cake I used to make for her as a girl for her wedding- in Palm Beach, Florida 2 weeks ago. At the time I thought it could be a romantic road trip. So many miles later I had done a very successful, but exhausting, there and back over the long weekend.
Now this weekend I am off to Indianapolis with yet another cake!! Only 2/3rd's the distance (ha!)- but more importantly I flew off to Dallas last weekend to be by the side of my beautiful fiancee at her induction to the TWU Women's Softball Hall of Fame. A tremendous honor to her and her team that has an even more amazing story behind it.
The short version is a small women's college softball team from Denton, TX, with a cutting edge and militant coach, worked and strove together to become the David that beat the big college Goliath's at the National Championship in 1979. A team with no money (using an empty swimming pool as a batting cage for example), but with so much grit and determination and phenomenal talent- beat the unbelievable odds.
I had heard some of the stories of the grueling practices, and the harshness of the coach. Hearing the shared experiences of these amazing women, and to find out that what I thought were exaggerations were, in fact, down played- well it just humbled me and made me so incredibly proud of my girl. I love you baby, you are truly amazing!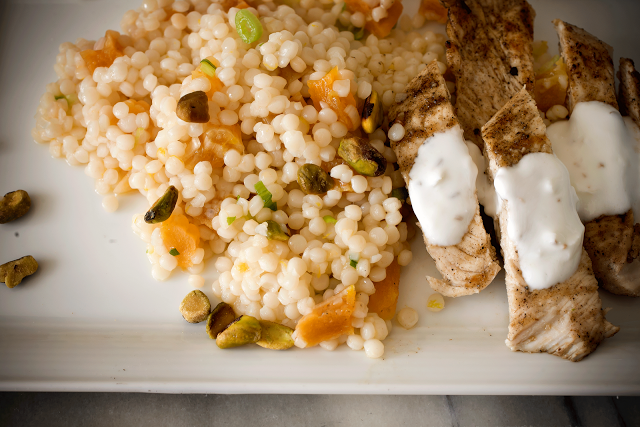 apricot couscous with pistachios
All of this is to explain why I've been a little out of pocket here- and to also express that eating well during this time has been a challenge, as you could imagine.
Which leads me to this dish, which is SO quick to make, so flavorful and so healthy, that taking the few minutes to pull it together was healing for my soul. (I am also packing some leftovers for the road tomorrow).
While the couscous cooks the marinade is tossed together and rubbed into the chicken, and the additions for the couscous chopped. Once the pasta is cooked it's only a few minutes on the grill with the chicken and the dish is ready to go. Honestly, from water in pot to table, it was 20 minutes.
I hope you enjoy it- and see you when I get back!
Warm Spiced Chicken with Cumin Yogurt Sauce
You can find cardamom in the spice isle either whole or ground. You may also use cumin for a slightly more intense flavor is that is more readily available to you.
serves 4
4T mild olive oil
1T ground cardamom
1 clove of garlic, finely minced
1 large pinch of salt
4 chicken breasts, boneless, skinless, pounded to an even thickness
8oz plain greek yogurt
1t minced cumin seeds
1T olive oil
2T milk or water to thin if desired
generous pinch of salt
For CousCous:
1.5 c Israeli Couscous
2c water
.25c diced apricots
1 scallion finely chopped
grated zest and juice from 1 tangerine
.25c pistachios, rough chopped
First prepare couscous. Bring water to boil in a small saucepan and then stir in the couscous. Allow to simmer for approx 10 mins, then remove from heat and cover to allow the pasta to steam finish.
Meanwhile, combine the zest and juice, apricots and scallion in a large bowl and set aside.
On a large plate combine the oil, cardamom and salt and stir to combine. Rub marinade into the chicken and set aside. Heat a grill pan.
In separate small bowl combine the yogurt, cumin, salt, oil. Add water or milk to thin if desired.
When the couscous is off the fire, grill your chicken breasts approximately 4 minutes per side, or until done.
Combine the cooked couscous in the bowl with tangerine juice and apricots and gently stir to combine.
Divide onto four plate equal amounts of couscous and sprinkle with pistachio nuts. Serve one chicken breast per plate. Serve the yogurt sauce on the side.