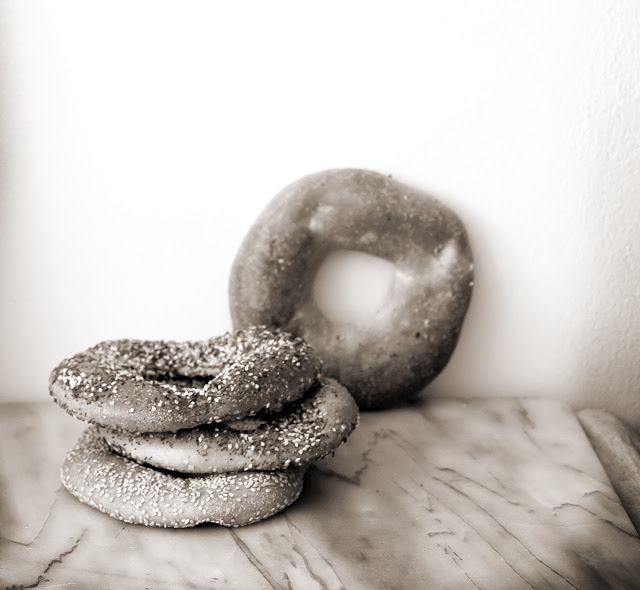 Ah how wonderful is Hummus? – a fantastic staple to keep on hand that lends itself to so many variations.
It's an easy, protein laden, Go-To that is also fiber rich. Easy to make, easy to store, and a great thing to have at the ready.  I have made several different versions, but feeling like spring, I made this one with wasabi. The horseradish gives a bright sharp taste that feels lighter than traditional hummus.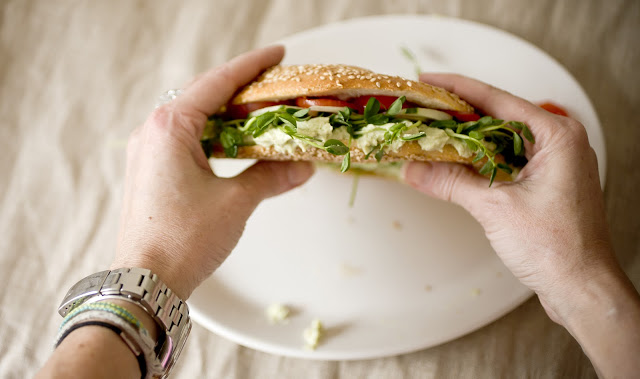 Chickpeas are the classic bean for making hummus, but I really love to use edamame as an alternative. Edamame has a lighter taste- more to the green pea side of things, and makes a puree with a silkier texture.
A bag of frozen shelled edamame is a constant in my freezer. A few minutes of boiling and they are ready to be tossed onto a salad, or into a pasta dish, or mashed into what we have here. Once the "hummus" is made it keeps for several days in the fridge.
It is not uncommon to see me dip a carrot or two in for a few bites before I make my dinner. Hummus is the perfect little snack to stave off the gnawing hunger- nutrition rich and guilt free.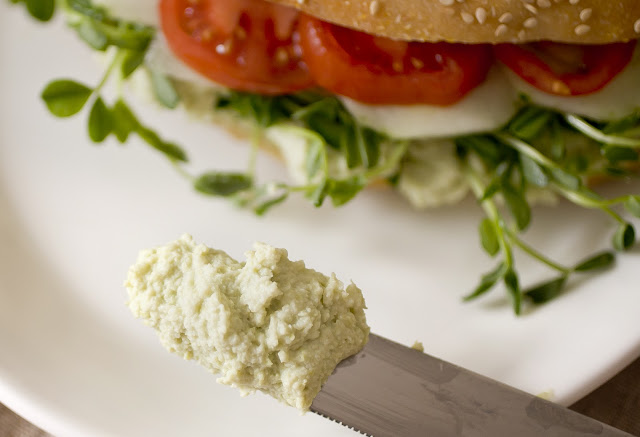 I was immediately taken by the look of these flagels that I bought at Fairway. I just think they are beautiful. They are an oversized flat bagel of delicious proportions. The right size to make a terrific sandwich. The flagels have that wonderful chewiness of a bagel without all the doughy middle breading. These are great for a meaty sandwich too, and are perfect for soaking up juicy dressings. One round is large enough for two, and can pack up and travel very nicely. Perfect for a picnic, now that the weather is warming up.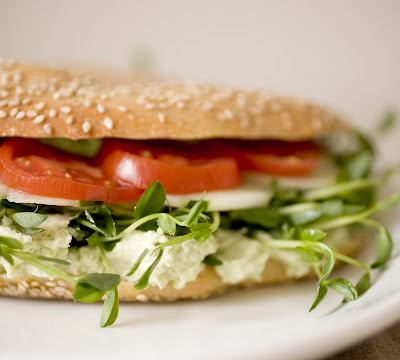 Edamame Wasabi Hummus
makes 2 cups
1# bag frozen, shelled edamame
1 package silken tofu
1 clove garlic
2T wasabi powder
salt to taste
Boil salted water in a pot and toss in edamame. Cook for 4-5 mins and drain. Rinse under cold water to cool.
Toss all the ingredients into a food processor and off you go.
The taste of the wasabi will emerge as it sits. I suggested letting the puree rest for a few minutes then taste again and adjust salt and wasabi if desired.
store in airtight container in the fridge