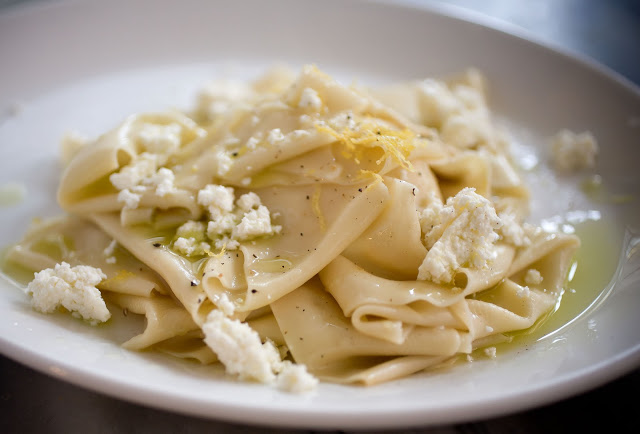 It all started with too much milk ordered for the cake business. I don't like things going to waste, so what to do with it? Naturally, I made fresh ricotta. So crazy simple, and I know just about everyone has blogged about it- but it really is kitchen magic and a delight every time. I tried a different method today and the results were SO much better. Nice juicy curds and a greater yield. I let them drain a little longer making them a little drier, which will make fantastic ravioli.
I made the ricotta this early afternoon as our day was getting rolling. A friend of ours stopped over for an afternoon Christmas visit. Pam was so excited about the ricotta that she dragged the still draining bowl with hanging cloth for Camille to see. "Look what Gail made! and smell it!" Needless to say they were both so deeply impressed that I felt guilty about how easy it was.
After Camille left I threw together a batch of fresh pasta and cranked it out. Snap! no problem. HA! Just kidding- that was a bit of work, but sometimes….. well sometimes you have to justify all those appliances that spill out of your cupboard.  In addition to that, on the darkest day of the year, which happened to be rainy and bleak- standing over a counter cranking out pasta sounds just about right to me. It's also something Pam and I can do together in the kitchen which is great relaxing time shared. The hardest part really is climbing under the counter to find the pasta machine and then setting it up. Once in gear it all goes quite nicely. Soon lumps of nondescript dough have turned into satiny sheets of pasta.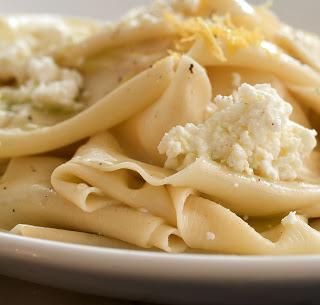 Rather than make traditional fettucini or linguini I opted to rough hand cut the sheets into what I considered to be rags, or ragged strips. It was fun to just have at it and end up with a messy floppy pile of noodles.
I made a simple white wine and lemon sauce and then gently tossed the noodles in with it right in the pan. I finished it off with Basil Oil that I made last week as part of my gifting series. Finally a grind of fresh black pepper and a grating of lemon zest, and Wednesday pasta it is!
Fresh Ricotta
Yielded 4c
1 gallon whole milk
.5t salt
6T lemon juice
In large pot warm milk and salt to boiling, stirring often to prevent scorching.
Stir in lemon and lower heat to simmer. Continue to constantly stir for another 2 mins as curds form.
Drain curds through a sieve lined with either cheesecloth or a open woven cotton cloth that is placed over a bowl to collect the whey.
The whey can be saved and used in soups etc- highly nutritious and terrible to waste.
Allow the curds to drain for about an hour. The longer the drier.
Fresh Ricotta will keep in the fridge for several days.
Fresh Pasta Dough
makes approx 1.5# of fresh pasta
2.75c AP flour
3 eggs
pinch salt
4T olive oil
2T water
In a food processor place flour and salt and pulse to combine
With motor running add the eggs one at a time. Process until there are even textured granules
Slowly drizzle in olive oil. The dough should start to come together and form a ball in the bowl.
Mine was not quite pulling together so I added in stages another 2T of water.
The result is a satiny mass.
Cover and rest for one hour to relax the gluten before rolling out into pasta