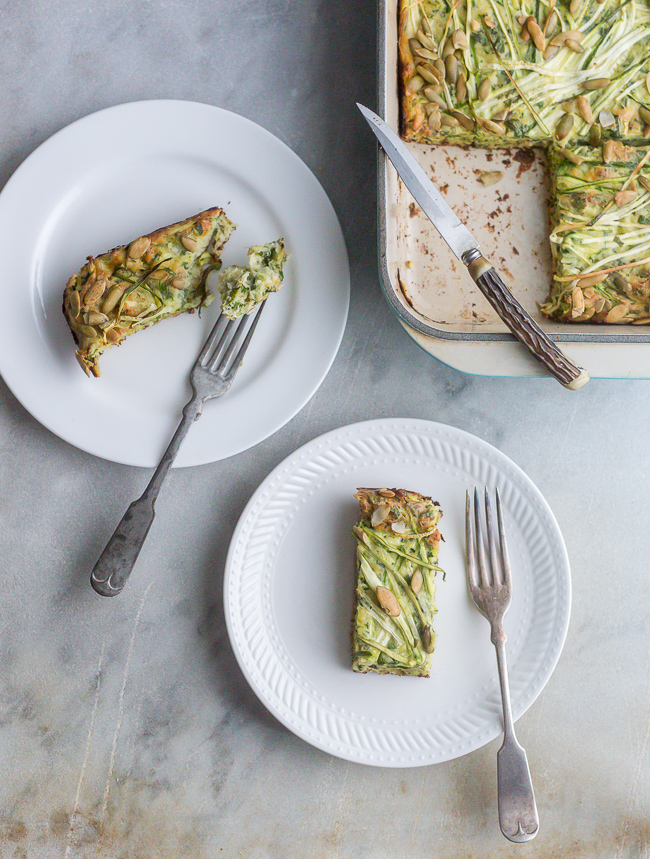 If you've been following me for awhile (and thank you to those of you who do!), I usually post a one pan dish that you can make for pre-holiday breakfasts. When you love your family, but you just need them pretty much out of the kitchen while you make your magic, this super easy Zucchini Spinach Tart is your friend. It takes just 10 minutes to pull this all together- or you can make this the night before and gently reheat.
Those holiday morning breakfasts can really be tricky. It's going to be a long day before that Thanksgiving Turkey hits the table, and it's just torturous to smell all that amazing food with a grumbling tummy. But who wants a big meal? And no one wants pots, pans, and multiple bowls cluttering things up. So it has to be something nourishing, satisfying, and something filling that won't make you feel like you're done in so early in the day.
Don't tell anyone, but a tart like this can also absorb all those bits of cheese in the drawer, or a half bunch of herbs you got in there- heck, last night's rice could also nestle right in too. Truth be told there is a half bunch of parsley in there, and it melded in just perfectly.
Even after the holidays this is a great meal to throw together. Serve with a snappy salad for lunch or dinner. I daresay you could pack this to take to work too….
Zucchini Spinach Tart
serves 6
Inspired by Donna Hay
2 large zucchini
1 cup chopped spinach
1 cup chopped parsley
2 scallion, minced
6 large eggs
1 cup flour
1 1/2 teaspoon baking powder
1 cup lowfat ricotta
1 teaspoon salt
1/4 cup pepitas
Preheat the oven to 400 ˚ and prepare a 8×11″ baking pan with cooking spray.
Using a mandoline create long ribbons of one half of one zucchini, set aside. Then using the rest of the zucchini grate into shorter 2-3″ lengths and place into a large bowl.
Add the spinach, parsley, scallion and stir to combine.
In a cup break the eggs and beat with a fork to emulsify. Pour over the zucchini and stir.
Add the flour, baking powder and salt to the bowl and gently fold 4-5 strokes, then add the ricotta and fold a few more strokes until all the flour is incorporated.
Pour the mixture into the pan and spread evenly. Sprinkle the pepitas on top and place into the middle of the oven.
Cook until the center is just springy to the touch, about 35-40 minutes.
Allow to cool for a few minutes before slicing and eating.