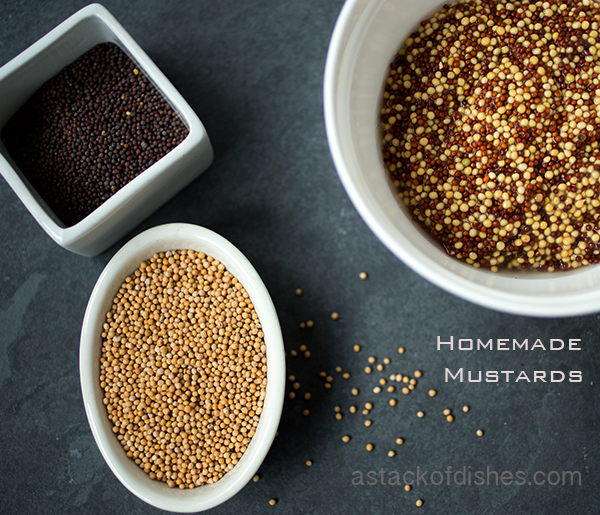 We are now full on to grilling season and I'm having a blast. We had a few fits and starts learning how to wrangle the charcoals into submission, but now my beloved is the grill master supreme! While I've been fun playing with this new medium it doesn't take long to start thinking about condiments.
The other day in my market I spied a young "shopper in training" who had his tiny cart filled with ketchup, relish, mayo and, of course, mustard. I smiled at the thought of sunny afternoons by the grill with his family, but then I wondered about all those prepared products.
The last time I looked at a label for ketchup I was surprised to see so many undesirable (read: unpronounceable) ingredients. This got me to thinking how we mindlessly pour this stuff on without really thinking- and may be ingesting stuff we might be wiser to avoid.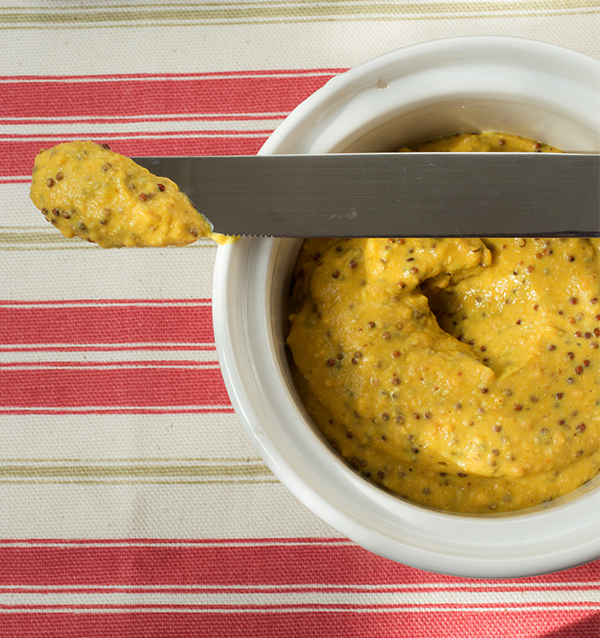 I was also inspired by a conversation I had last Sunday regarding a family member that thought nothing of whipping up her own mayonnaise rather than store bought. The general consensus was "How crazy is that?". Time in the kitchen aside, there is no question that homemade condiments of any kind are far superior in taste that store bought. I know we get used to what we know, and these days, those bottles of red, yellow or white are inexpensive enough not to think twice about it- but what if we've been missing out on some of the best flavor enhancers of the meal??
I've made mayonnaise several times in my life- the last time was by hand (not that much work really), but never mustard. I've had seeds in my cupboard that I've used to make pickles, or marinades, but I've never taken the time to make actual mustard.
There are basically two camps to mustard making- those from powdered mustard, and those using the whole seed. I tried both, and both are easy to make- though for whole grain mustard the seeds required soaking overnight. The recipes are forgiving and you may half or double them according to your needs.
So the next time you're short on a plastic yellow bottle in your fridge, you don't every have to go without.
And don't forget to support my #Sunday Supper pals! It's ALL about the grill!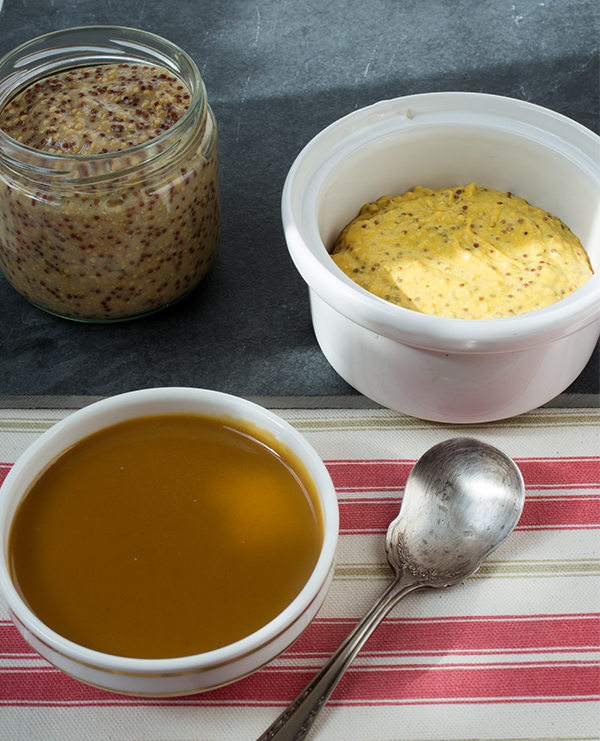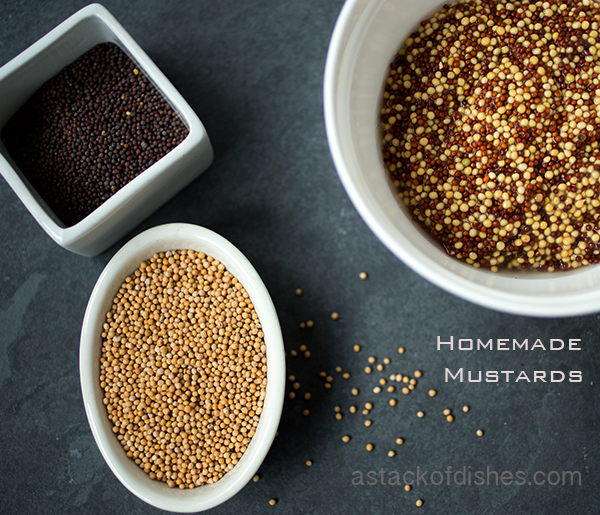 Three Mustards: Bourbon Whole Grain, Spicy Honey Mustard and Yellow Whole Grain
2013-06-29 11:48:45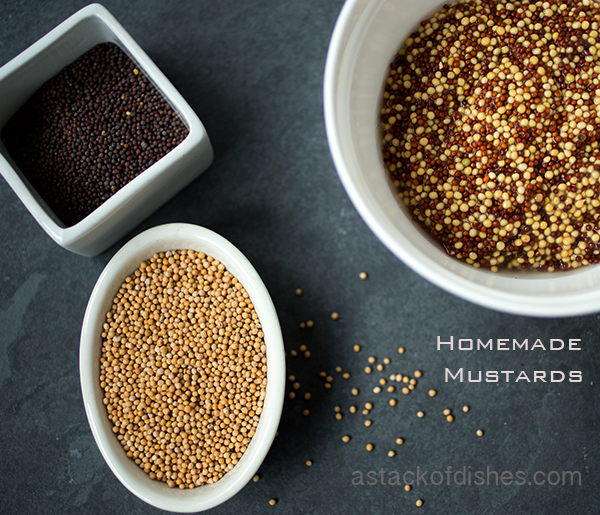 Three different mustards you can make in a snap. Just give them a day to mature before eating.
Nutrition Facts
Amount Per Serving
* Percent Daily Values are based on a 2,000 calorie diet. Your Daily Values may be higher or lower depending on your calorie needs.
Bourbon Whole Grain
1/2 cup brown mustard seeds
1/2 cup yellow mustard seeds
1 cup bourbon
1 1/2 cup white vinegar
1 cup dry mustard powder with 1 cup water- let sit 20 minutes
4 Tablespoons sugar
2 teaspoons salt
Spicy Honey
1 cup dry mustard powder
1 cup cider vinegar
2/3 cup honey
1/2 teaspoon salt
1/4 teaspoon white pepper
Yellow Whole Grain
1/2 cup yellow mustard seeds
1 Tablespoon brown mustard seeds
1/2 cup cider vinegar
1/4 cup water
2 Tablespoons brandy
2 Tablespoons sugar
1 teaspoon tumeric
Bourbon Whole Grain
In a large bowl combine the mustard seeds and cover with the bourbon and vinegar. Cover and soak overnight.
In a food processor combine the seeds, mustard powder mash, sugar and salt and whizz to combine thoroughly. Taste for balance. If bitter add more sugar, if flat, add a splash more vinegar.
Store in a sterilized jar in the fridge overnight before using, or properly can for long term storage.
Spicy Honey
In a medium saucepan combine all the ingredients and simmer for 5 minutes over low heat. Adjust seasonings as above, allow to cool, then bottle.
Yellow Whole Grain
In a medium bowl soak the seeds in the vinegar and water overnight. Add the bourbon, honey and turmeric and blend in a food processor. Adjust for taste then bottle as indicated above.
Notes
These mustards are base recipes to which you may add flavorings such as: herbs, spices, horseradish, etc. You may do this by the bottle, or create individually to compliment the meal.
A Stack of Dishes http://www.astackofdishes.com/
Hot Off the Grill:
Best Grilled Pork Chops by Hezzi-D's Books & Cooks
Bleu Cheese Burgers by Juanita's Cocina
Korean Grilled Flank Steak by That Skinny Chick Can Bake
Swedish Blonde Burgers by Eat, Move, Shine
Hawaiian Hot Dogs by La Cocina De Leslie
BBQing the Whole Hog, Cuban Style by Webicurean
Chorizo and scallop kebobs by Jane's Adventures in Dinner
Meat Stuffed Jalapenos by The Urban Mrs
St. Louis Ribs by Bobbi's Kozy Kitchen
Fish Kebabs with Mint Chutney by Soni's Food
Jalapeno Bacon Burgers by Cookin' Mimi
Cheddar Cheese Stuffed Bacon Burgers by In the Kitchen with KP
Fish Kebabs with Mint Chutney by Soni's Food
Curried Pork Sliders with Peanut Sauce & Apple Slaw by Foxes Love Lemons
Grilled Prosciutto Wrapped Chicken Breasts by Sustainable Dad
Ditch Dogs by Daily Dish Recipes
Bison Kabobs by Noshing With The Nolands
On the Side:
Spicy Baked Beans by The Messy Baker
Wisconsin Roasted Corn by Curious Cuisiniere
German Potato Salad by The Foodie Army Wife
Grilled New Potatoes With Peppers And Onions by Kudos Kitchen by Renee
Sausage Potato Salad by girlichef
Lightened Up Fully Loaded Baked Potato Salad by Peanut Butter and Peppers
Homemade Mustards by A Stack of Dishes
Spicy Grilled Corn Salad by Magnolia Days
California Layered Salad by The Weekend Gourmet
Grilled Potato Salad by In Fine Balance
Spicy Bacon and Corn Salad by Hip Foodie Mom
Three Corns with Japanese Accents by Ninja Baking
Cucumber Bruschetta by Healthy. Delicious.
Grilled Zucchini by Supper for a Steal
Chicken Spinach & Pasta Salad by Family Foodie
Sweet Tooth:
Red, White & Blue Parfait by Country Girl in the Village
Root Beer Float Sandwich Cookies by Chocolate Moosey
Gluten Free Brownies by Blueberries & Blessings
Grilled Stone Fruit Parfait by Pescetarian Journal
Blueberry Sorbet by Shockingly Delicious
Strawberry Lemonade Cupcakes by The Girl in the Little Red Kitchen
Tres Leches Cake by Happy Baking Days
Beach Cupcakes by The Little Ferraro Kitchen
Grilled Banana Dessert Bar by Home Cooking Memories
Berries & Cream Pie by Treats & Trinkets
Raspberry Lemonade Frozen Yogurt Pops by Runner's Tales
More S'mores by Growing Up Gabel
Blackberry Peach Cobbler by Neighborfood
Cornbread Cookies by Pies & Plots
Funfetti Fluff Cheerio Treats by What Smells So Good?
Pineapple Pudding by Granny's Down Home Sassy Southern Cooking
In the Cooler:
Cherry Caipiroska by Vintage Kitchen Notes
Mint Tea Slushes by Cindy's Recipes and Writing
Prickly Pear Margaritas by Ruffles & Truffles
Simple Lemonade by Basic N Delicious